Education
The Katherine Museum encourages school groups and other educational facilities to use the Museum to teach our young, old and new to our town its local history. We have a vast amount of local history that is presented in a way that is unique to Katherine and the Northern Territory. Educating our young is particularly important as over the last 50 years so much has changed in the standards of living to present day.
After a school tour is completed we like to assemble the children on the front lawn to ask them if they have had a good time and give them opportunity to ask questions about our history and Museum.
Quiz
Before the guided tour takes place we give the children an opportunity to be involved in a quiz game. The Museum staff member will give the group some clues and hints and when the tour is completed and the children are assembled again on the lawn we find out who could answer the quiz questions. There is a small prize awarded.
School Visit
Bookings are essential especially though the periods from April to October.
We can be contacted at:
Phone 08 89723945
Fax 08 89723946
Email kamuseum@bigpond.net.au
Planning a Visit
There is an admission fee for educational tours. The Museum will also ask if the teacher in charge can bring along other members of staff or parents to assist with overseeing of the children. There is no fee for the teacher or parents assisting with the tour.
Opening hours
We are open form 9.00am to 4.00pm every day except Christmas Day.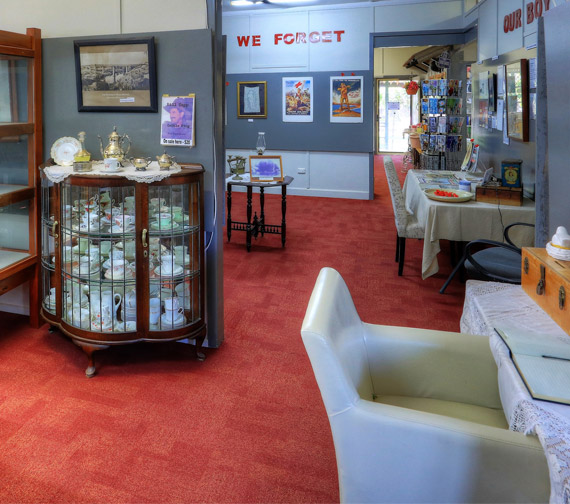 Tips for a visit
Is there food at the Museum?
We have a Tea Room that can cater for morning, afternoon tea and lunches. Notification when booking the visit to the Museum is best or you can contact Geoff Mark on 0427112806 or if you are staying overnight in Katherine you may like to take the children for a camp oven night with Geoff. His website is www.camptucker.com
Should students bring bags to the Museum?
There is no need for students to bring bags to the Museum as there is provided areas for refreshments and it only adds to the teacher's responsibility to care for the bags. If you wish to bring bags we usually get the students to leave them under a tree out the front, in the cool if they are bringing their morning tea or lunch.
How much time should we spend at the Museum?
For children under 10 years old we suggest 1 hour and for children over the age of 11 we suggest 1 hour 20 minutes. For the older children the 1998 flood video is available for viewing. Do you have a shop? The Museum has a gift shop with souvenirs and a wide range of historical books. We also sell soft drinks and water.
Can Students take photos?
Yes, we allow students to take photos during their visit.
How can I prepare the group for a visit?
Before coming to the Museum the teacher can prepare the students in the classroom by having a discussion on how should a student behave while in a Museum. Ask them what is a Museum? Tell them that a Museum is a keeping place for history and usually the objects are very old and they can't be touched as the acid from our hands causes corrosion and deterioration.
List of tip for the teacher to implement to students
Be courtesy to other visitors to the Museum by not talking too loud while others are reading
Don't run around the displays as historical objects may get broken and student may get hurt
Ask the students in smaller confined displays to put their hands behind their backs
No food or drinks are allowed while in display areas No touching of object in case if breakages and deterioration
Tell the student that they will be broken up into two groups. One inside and one outside. Then rotated. The Museum main building is small so it's best to have two groups
Encourage the students to ask questions, the staff will be willing to assist.
Do you have a question about our School Tours?
Call us on 08 8972 3945 or via our online contact form